CrossFit has a reputation for a number of un-true stereotypes. We've built a guide to help you understand how and why those ideas are wrong. This should give you a much better understanding about what happens in CrossFit gyms around the world.
MYTH: Only competitive people do CrossFit
You set the level of competition and are only as competitive in CrossFit as you want to be.
Most participants in the sport of CrossFit compete against themselves. Most drive for success comes from setting goals for your own personal growth.
If you're not excited about competing, you don't have to. One of the best parts of CrossFit is the supportive community.
Members of a gym survive workouts together. Much like military training, shared suffering builds one heck of a bond between you and other members. Real CrossFitters revel in the fact that it is the only sport where the loudest cheers are for the last people to finish a workout.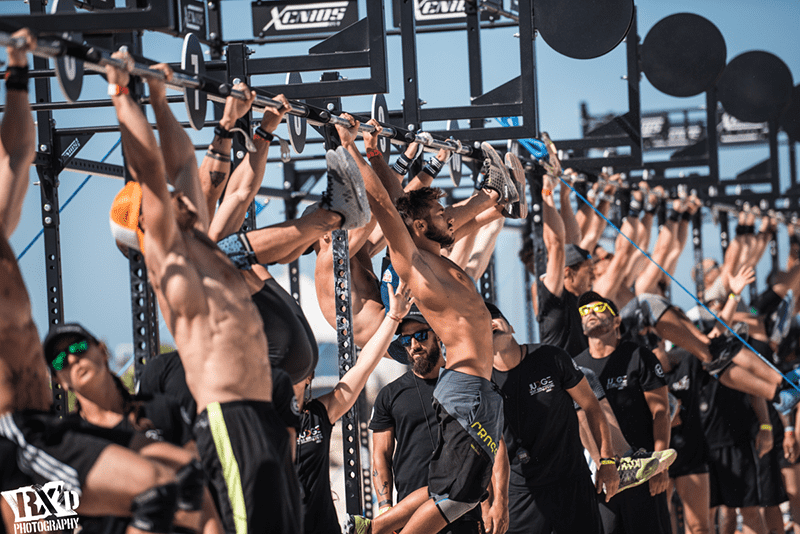 If you love the idea of CrossFit competitions and want to test yourself against others, great!
There are plenty of opportunities in the sport to compete:
MYTH: I have to be fit to start doing CrossFit
Much like any activity or hobby, there's never going to be a perfect time to start. CrossFit is no different – you have to just start, then learn along the way. The genius in this sport is that it'll challenge you at any skill level., from a total novice right through to professional athletes at the highest levels.
The mantra for CrossFit workouts posted to crossfit.com is "design for the best, scale for the rest." This means workouts are designed to be hard for even the best athletes, but that good trainers an gyms will adjust the workout to be the perfect level of difficulty for everyone.
The events professional CrossFit athletes undertake in the CrossFit Games, qualifying events (sanctionals), and invitationals are designed to test individuals to the limits of their abilities and see well they can adapt.
MYTH: Women get bulky from CrossFit
Regardless of your personal fitness goals or the specific body type you believe society wants you to have, there's one very important thing for you to know: you're beautiful, regardless of what you weigh relative to your height.
"Fitness" can mean many things, and doesn't necessarily mean you must fit into any single specific body type. Just ask Danica Patrick, Emily Schromm, Kelsey Kiel, Bethany Shadburne, and Brooke Ence – five avid CrossFit fans and athletes with very different body types.
What CrossFit does make women is much more confident, strong, and healthy. Remember that the most ripped female athletes you see control every gram of food going into their body and often spend four or more hours in the gym each day. You're a long way from that level of body change.
MYTH: Men get smaller from CrossFit
It would be difficult for you to find a sport or business where a prominent individual hasn't benefitted immensely from their hobby as a CrossFit participant. Here's a partial list. The point? CrossFit gets you where you need to go.
Female Athletes
Female Stars
Male Athletes
Male Stars
MYTH: You can't do CrossFit if you're older
CrossFit is actually designed for helping people kick butt well into their nineties. The idea of functional fitness is training movements and stability vital to functioning at any age.
Additionally, the annual CrossFit Games has a special category for "masters" athletes. Competitors can participate in age groups all the way up to 60-plus.
Here's a video of 100 year old CrossFitter Kameichi Yawata, courtesy of CrossFit.com:
MYTH: CrossFit doesn't teach good form
As with any bad gym or poor coaching, use of improper form or a failure to focus on and teach good technique is always a risk in any sport.
Because CrossFit adds a clock to the mix when workouts are running, it's not uncommon that form can break down when the body gets tired.
Fortunately, the sport has checks and balances for bad form: if you don't complete the lift correctly, it is considered a "no rep". Translation: the lift doesn't count if you don't do it right.
In fact, CrossFit is one of very few gyms with qualified trainer interaction being mandated. The average Joe signing up for a mega gym gets no coaching from gym staff, while all CrossFitters are overseen by their small group class coaches.
MYTH: It's dangerous to do CrossFit
All sports come with the risk of injury. It can be argued that a bodybuilder in a large, un-structured gym can be more at-risk of injury through lack of coaching than a CrossFit athlete at a CrossFit gym.
Contributing to this myth was a study conducted by the National Strength and Conditioning Association (NSCA) which said CrossFit has a higher-likelihood of injury than other activities.
Recently, a judge ruled the NSCA made intentionally false claims, skewed the data, is now responsible for associated legal fees, and is at-risk of a counter-suit regarding their libel statements.