Fitness gifts are everywhere we look, but sometimes it's still hard to find the perfect gifts for fitness lovers. We have your back with this fun, daily guide to the best workout gifts, gifts for personal trainers, and ideas to make this someone's perfect CrossFit Christmas.
How This Works
Each day, starting today, WODDITY is updating this post with ideas for CrossFit gifts. Be sure to bookmark the page and check back each day, or follow our social media accounts for updates.
With every post, I'll break down why I chose these gifts for gym lovers, whether you're on the hunt for "fitness gifts for men" or the perfect "fitness gifts for her".
This guide will make sure gifts vary by skill level, price, and size. If we get closer to Christmas Hanukah, or other holidays and you haven't seen something the perfect gift for gymrats, reach out to us and let us know. We'll make sure to get you some great advice and help you shop.
We'll also plug in some ever-so-important Black Friday and Cyber Monday deals as these vendors announce them for the coming holidays.
Day 22: High-Quality Speed (Jump) Rope from RPM
One reasonably-priced accessory CrossFitters use just as often as a rower (see day 17 of our Fitness Gift Guide) is a jumprope or speed rope. These are used to perform double-unders, which demands a higher-functioning rope than you remember using in PE classes during your elementary school days. One of the best ropes out there is made by RPM, which uses a unique design, build, and high-quality materials to make a rope with a very quick and reliable spinning action. You can find YouTube videos of these things spinning freely for entire minutes. Imagine the bearings of a fidget spinner mixed with a jump rope. THAT's a gift of love. Especially for someone who probably does a lot of double-unders.
Day 21: WOD Dice
Here's a really great small fitness gift trinket you can stuff into a stocking. Remember our Day 19 gift idea when we talked through what a "WOD" was? Well, the idea behind CrossFit is that we're training to be generally fit in all categories. This means being physically prepared for what we call the "unknown and the unknowable". Not only is it a good general motto for your fitness pursuits, but it also means workouts are constantly new, refreshing, and exciting.
You can add to that excitement by gifting some WODDice. These dice build a complete workout in a simple flick of the wrist.
Day 20: The Fittest in Dubai Documentary
CrossFit had a good run, releasing award-winning documentaries three years in a row. That ended in 2018 when they disbanded their media team in favor of opening up to outside media. That shouldn't stop the fun. The Dubai CrossFit Championship has released their own documentary, following athletes through their Sanctional event last year. The movie is available for stream and for download.
Day 19: A WOD Journal (Journal for Workouts)
If you're on this guide because you're completely lost when it comes to shopping for fitness gifts on Black Friday or Cyber Monday, we're going to teach you a quick acronym. In CrossFit, we call our workouts "WODs", which stands for Workouts Of the Day. One of the important differentiators between CrossFit and other fitness modalities is that we use benchmark workouts to track our fitness over time. You perform one workout, note your time, weight, repetitions, etc., then follow up another time to see how you've improved. A workout or WOD journal helps you do that. I've had a couple of these, but this is a pretty solid one:
Day 18: CrossFit Hand-Made Stationary
We found this one on Reddit this week and think the whole world needs to see it. Austin Miller, form Lehi, Utah, has made a specially-designed stationary feating a woman doing common CrossFit movements. Now THIS is how we prefer to write letters. You can buy the stationary on Austin's Etsy page.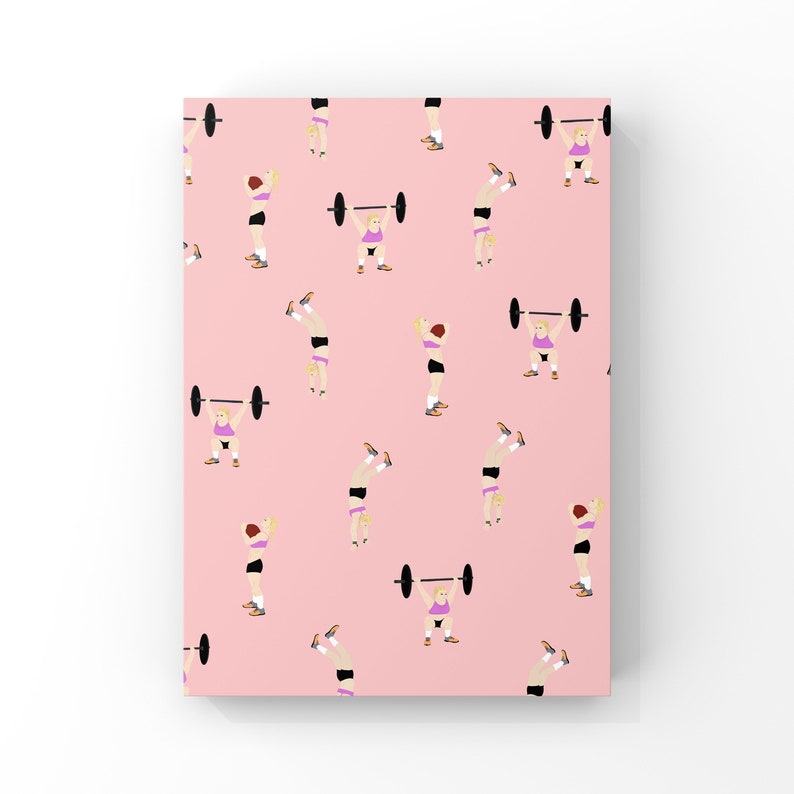 Day 17: The Concept2 Rower
Please excuse our boldness, because this is a "go big or go home" gift idea. Nonetheless, it's one every fan of health and fitness should have in their garage. Concept2 has become the only rower (also known as an "erg") found in CrossFit affiliates around the globe. It's the rower used in competitions, and has become the golden standard. They're durable, modular, light, and reliable.
If you haven't been into a gym or watched the CrossFit Games, it's hard to explain how common they are. If you're shopping for someone who goes to a gym regularly, they likely row 2-3 times per week. The price point is one that makes it possible to take the rower home with you and have one posted up in your garage. Food for thought.
If you're a fan of Concept2's work, they also make a bike and a ski erg. You could build a full set.
Day 16: The UnderArmour Tribase Reign
UnderArmour blew some fans' minds last year when they unveiled their very own shoe for functional fitness, the Tribase Reign. I bought a pair so I could write an unbiased review, but loved them so much that I swooped back over and bought a second pair. It's definitely a different take on a shoe for CrossFit, which is a good thing. Variety is something people hunting for CrossFit shoes just haven't had in quite a while.
If you want to know more, you can read our reviews. Without further ado, here's a link to the UA website, where I'm sure they'll have a good Black Friday and Cyber Monday deal ready for you later this week.
Day 15: Hylete Shorts and Sports Bras
When compared to companies like Reebok, Hylete is relatively new to the industry. However, they've already earned themselves a solid reputation for some wildly comfortable shorts, leggings, and sports bras. When you're shopping for that special someone, it's good to know that Hylete does a good job of staying true-to-size. That takes some of the pain away from shopping.
Day 14: Barbell Apparel is Back with their Black Friday Deal
It's like Christmas for Black Friday deals. They just keep coming. I mentioned how much I love Barbell Apparel jeans earlier in this post, both as a gift and as something you should buy yourself. It's that good ol' phrase, "get yourself something nice, too." This deal is cool, because it will be in addition to Barbell's planned Black Friday sale and gives you an additional 10% off a purchase of $99 or more.
Use the code "BARBELL2019" when you check out after following this link.
Day 13: Reebok's Black Friday Deal
Let's just say you really can't go wrong with anything done by Reebok. The brand is highly-heralded by the sport of fitness, especially as the long-time title sponsor of the CrossFit Games. Today, they announced their Black Friday deal, which will be a 50% off sale. Not too shabby. Here's that deal for you:
Reebok Black Friday Exclusive Event: Extra 50% Off Sale with code BF50
Day 12: The Classic AbMat
It's hard to shop for someone who loves fitness if you don't support what they're doing at your very core. So we've inserted an abdominal muscle pun as a smooth segue into the fact that an AbMat would be a great gift idea. To a CrossFit outsider, this may look like a fitness gimmick a la the Bowflex or Sketchers Shape Up shoes, but the AbMat has a super important purpose in our sport. It protects your back while you do sit ups on hard and unforgiving (and sometimes cold) floors. Isn't that a gift you think that fit person in your life deserves?
Here's the concept: the mat fits the curvature of your spine so your body is in a healthier position while you do sit-ups. That's it. Simple and easy. No "get fit quick" scheme here. Just an opportunity to do hard work, better.
Day 11: The 7 Must-Read CrossFit Books
This one makes shopping for fitness gifts and CrossFit fans super-easy. If they know how to read, they'll love every single one of these seven books in our gift guide for readers. You've already seen us talk about Dottir in this gift guide, but they would also love books by Ben Bergeron, Tia-Clair Toomey, Dave Castro, Jason Khalipa, Rich Froning, and moooooore.
Day 10: Fittest on Earth Documentary Series
CrossFit first started their documentarian efforts in 2009's "Every Second Counts"; a film looking at athletes as they trained for that year's CrossFit Games. Unfortunately for their plans, the bigger-name athletes they were following lost out to phenom (and now fitness empire mogul) Jason Khalipa. Nevertheless, it fed into a fantastic, award-winning series of films produced by the organization.
I've put links to each of the films at the bottom of this secion, but here's a summary of each. If Amazon didn't have a great summary, I supplemented:
Every Second Counts
Every Second Counts takes an inside look at the CrossFit® culture and community, where time on a stopwatch reigns as the supreme measure of performance. Those who reach the elite ranks in the burgeoning sport of CrossFit push themselves beyond limitations imposed by the mind, and flirt with the limits of physical capacity.
Froning
Rich Froning Jr entered the 2014 CrossFit Games competition with three consecutive victories, a feat that no other athlete had accomplished. In this in-depth documentary by Heber Cannon, take a look into the life and childhood of the fittest man in history, follow his quest to a fourth straight CrossFit Games championship, and see him as a son, a husband and a new father.
Fittest on Earth 2015
The fittest athletes on earth take on the CrossFit Games, the ultimate test of fitness to prove that they are the fittest on earth. This film chases athletes around one of the biggest seasons of the CrossFit Games, which resulted in iconic athlete Ben Smith's win of the "Fittest on Earth" title, along with Katrin Davidsdottir's first of two consecutive wins.
Fittest on Earth: A Decade of Fitness
Forty of the world's top athletes battle through 15 events and five grueling days of competition for the title of Fittest on Earth. Who will rise to the top and prove the fittest?
Mat Fraser returns to the podium and starts his four (and potentially more) year dominance of the CrossFit Games podium, along with Katrin Davidsdottir's second consecutive "Fittest on Earth" title.
The Redeemed and the Dominant: Fittest On Earth
Elite athletes take on a series of grueling tests to vie for the title of "Fittest on Earth." Follow the drama as they endure the unknown and unknowable during four of the most intense days of competition in CrossFit Games history.
This film also documents the first CrossFit Games podium athlete to test positive for performance enhancing drugs, Ricky Garard.
Day 9: 5.11 Tactical "TacTec" Weight Vest
One of the most iconic scenes ever at a CrossFit Games was in 2015. Athletes took to the field on a hot California summer day in weight vests by 5.11 Tactical to complete the legendary hero workout "Murph". Whether it was the cool vest (also known as a "plate carrier"), the heat stroke athletes suffered, or the crazy workout, those vests have forever become engrained as a part of the classic CrossFit imagery. Right next to tire flips and rope climbs.
We saw the vests return numerous times, including Murph again in 2016, and in 2018 as a part of the Rescue Randy drag in the Battleground workout.
That alone speaks to the versatility. Inspired by generations of armed services vests, they support interchangeable plates to help vary the weight based on your needs. My biggest concern when I purchased mine was whether or not the plates were secured and if the vest would cause chafing.
5.11 Tactical really proved their genius to me on those points. The plates are secured with a number of cross straps, and the vest is securely held to your body using a well-planned cross-body strap which may be better-described as "webbing" of a sorts. Even when I have the vest packed with 30-lbs of plates, I run without any bouncing issues and the webbing/straps have the right balance of rigidity and flexibility to still allow breathing. Thank. The. Lord.
Since then, I've used the vest to push myself on common body weight workouts, and was even able to break it out for the annual Memorial Day Murph event at my gym. There really is nothing cooler than being able to DO the workout IN the official vest.
Here's a link to 5.11 – you can find six different color variations for the vest by searching for "TacTec Plate Carrier" or Accessories > Plate Carriers & Vests.
Fitness Gifts Day 8: Altra Trail Running Shoes
We've been seeing it more and more: CrossFit fans are exploring the world of obstacle course racing and trail runs. I come from an ultra marathon background, which means I know the PERFECT shoe for this fitness gift guide's athlete looking to get into some trails. Altra is a company that has been a legend in the trail space for years. Alongside names like Hoka and Saucony, they've stood out to me as the most comfortable and durable.
Yes, durability is important when you're out in the middle of a forest, climbing a mountain trail, or chasing a bear. Additional perks include that Altra's shoes are really affordable, they make their own training shoe which can be compared to a Nike Metcon, and they have a roomy toe box to fit larger feet. That shoe is called the Solstice XT.
Here's the trail running shoe I use, the Vanish XC. This is one of the lower-profile shoes, since I no longer run those wild 50-kilometer and 50-mile races. If you're on this fitness gift guide looking for something more distance-y, you can look at the Superior 4 or Lone Peak 4.
Fitness Gifts Day 7: Barbell Apparel Jeans
Let me tell you a little story about the greatest pair of jeans of all time. And by "pair of jeans" I mean I know have six pairs of them.
My family has a butt. With the maiden name of "Stone", my mother and her sisters have always referred to it as the "Stone Butt". This ever-so-big butt is something passed down from generation to generation like a family heirloom. I'm lucky I'm a tall guy, because I got it too.
It is what it is, and I'm rolling with it. Sometimes literally.
The one main hassle of the big booty is finding jeans that'll work with me. It's a very similar conundrum to athletes working with thicker thighs and quads from doing all those squats. The founders of Barbell Apparel stood up one day and proudly built something for the masses demanding better jeans.
So here I am, sitting in my favorite pair of Barbell Apparel jeans, writing a recommendation for the dang things. Barbell offers a ton of different deals and is always running a big promotion. Right now they're offering WODITY's fans a $10 discount on purchases of $99 or more, and the deal will work with any other Black Friday sale you see on the site. Use this link and the code "Barbell2019" to get the deal.
One of the other reasons (other than just loving these jeans) that I've picked Barbell Apparel for this fitness gift guide is that they're incredible with customer service, returns, and exchanges. It makes you feel that much more peace-of-mind when you're investing in quality clothes and a better experience. Happy shopping!
Fitness Gifts Day 6: The Gainz Box
I was suckered into my first subscription box about six or seven years ago when a girlfriend gifted me a six-month subscription to Birchbox. All I remember from that was that I got a cool pair of socks, a phone charger for the wrong type of phone, and eighteen bottles of cologne I refused to wear because I'm not THAT guy.
The Gainz Box is different. Like…polar opposites in all the good ways. If you're really struggling with the overwhelming number of fitness and healthy gift ideas and just want to press the "easy" button, you're probably not going to find a better gift than a Gainz Box subscription.
Here's how it works: you pay $32 per month for $75-plus worth of fitnessy awesomeness. For example, my October box came with a really nice long-sleeve tee from 5.11 Tactical, a brand which you're probably going to see later in this gift guide for their epic weight vests. Women got a really comfy-looking sports bra top, every received olympic weightlifting wrist straps, bacon cheddar power pops, and a sample pack of Black Rifle coffee. Total value was somewhere over $85. I love the surprise, I love the variety, and it makes the holidays really feel like a monthly thing. But not in a stressful way.
Use this link and the code "GZ10" to get 10% off your first order at Gainz Box.
Oh! And they're veteran-owned and operated. Just another cool tidbit.
Fitness Gifts Day 5: MobiPoint® Massage Ball
You can call this a stocking stuffer or maybe just a cool accessory to round out your fitnessy giftery. If you haven't experienced the joy of rolling out your palms (see also: your feet) using a massage ball, you haven't lived your life to its fullest. I had no idea how tight and knotted my hands were until I started mashing on them with this thing. The dog has also discovered it as a chew toy he can't demolish and he eventually gave up.
I bought the MobiPoint specifically because it's small, cheap, and knobby. The little nubs of love really get in there and do some work. You can't change an athlete or gym-goer's life much more for eight dollars. Trigger Point is a great company, too. I have two of their foam rollers, in addition to my MobiPoint massage ball. Come to the dark side.
Shop Massage Balls at TriggerPoint.
Fitness Gifts Day 4: High Sierra Jarvis Backpack
"Wait! A laptop bag? That's not very fitnessy!"
Yes, a laptop bag. Why? Because we the fitness addicts aren't defined by what we do at the gym. So take this one mild reprieve from the land of barbells and listen to my deeper reasoning:
We all put on a strong facade, but sometimes it's HARD to be healthy. Going to the gym on a daily basis sometimes means you have to de-prioritize other important activities. Eating healthy sometimes means you need to plan ahead for each meal, every day.
What makes all of this easier? Organization. I have a High Sierra Jarvis backpack I use as an organizational tool to help me check all of my to-do list items each day. It's true. Ben Garves has a Jarvis backpack. What are you? 12?
First, I think the whooly weave/slate gray color just looks cool. Second, I'm a sucker for pockets. It has a spot for nutrition bars, a pocket you can fit some Tupperware in, a slot for an ever-so-important water bottle, and of course, space for my notepad and laptop.
I can't imagine your fitnessy friend who brought you all the way to this holiday gift guide for fitness doesn't have some organization demands on them and a laptop bag that's from 2003. Just a thought. Consider it a mild suggestion. Shop High Sierra.
Fitness Gifts Day 3: The WHOOP Strap 3.0
It's hard to follow the sport of fitness without being inundated by the global phenomenon that is WHOOP. The company has created a unique "always on" heart rate monitor with a groundbreaking corresponding phone app which doesn't just look at how you're working out, but how you're recovering from your workouts. Why is recovery so important? Well, sleep quality, alcohol intake, rest days, and life stress can have a bigger impact on your sport performance than your actual workouts can. Yes. We said it.
The WHOOP Strap 3.0 works on a subscription basis. They send you the $500 strap for free with your subscription. It charges while you wear it using nifty charging pucks, and is completely waterproof for the swimmer in your life.
Once the strap shows up and your friend or family member starts wearing it, the device starts to learn more about them. After a few days, it tunes into important unique characteristics like sleep patterns, resting heart rate, heart rate variability, and more. It then begins to coach by offering tips and tricks to begin tweaking your lifestyle for better performance, better sleep, and an overall better life.
Use our link for a steep discount on your first month. Just like all of our recommendations on this fitness gift guide, we're not sponsored by WHOOP. We were early adopters of their products and just believe in the work they do.
Fitness Gifts Day 2: Dottir by Katrin Davidsdottir
Generally, CrossFit athletes and coaches aren't known for their writing skills. There are a few exceptions out there with amazing books, Katrin Davidsdottir being one of them. Katrin is a two-time CrossFit Games champion from Iceland and has become a legend in the sport. She partnered with media celebrity Rory McKernan to write this early life biography, sharing the secrets to having winning mindset, health and fitness hacks, and more.
If you really like the idea of some CrossFit books, you could also check out First by Rich Froning and Chasing Excellence by Ben Bergeron.
Fitness Gifts Day 1: The Reebok Nano 9
We're kicking off our fitness gifts guide with a classic – the official shoe of CrossFit. The Reebok Nano 9 was released in 2019 and, through a number of important design updates, has quickly become what is considered the most comfortable shoe in the sport. It's stable for lifting, flexible for running and jumping, and durable through all the tests you put it through.
Reebok is constantly updating the Nano 9 with cool and exciting colors, but sometimes you can't go wrong with a simple black and white pair. They're great for both men and women.
Reebok Black Friday Exclusive Event: Extra 50% Off Sale with code BF50
To help you start your fitness gift shopping, here are a couple of deals and sales currently on Amazon:
Stay tuned! We'll be back tomorrow with another great idea on gifts for CrossFitters.
Frequently Asked Questions
Are these gifts for fitness lovers or gifts for fit people?
You can consider these gifts for fitness lovers and gifts for fit people. I'm including a wide variety of options, which should help you gift shop for people of all ages, skill levels, and body types. My hope is that I'm not presenting you with any gift ideas that won't be a great fit for everyone.
Are these workout gifts for people when they're working out, or for general life?
You'll notice these workout gifts are for both inside and outside the gym. For example, a gift like a backpack can enable your fit friends to be more organized in their life (enabling more fitness time) and some resistance bands can help them do accessory work while they're in the gym. Yay for workout gifts!
Do you also have gifts for personal trainers?
That's the beauty about having 45 days of gift ideas: it includes such a wide range of recommended fitness gifts that there's surely something in here for personal trainers. That could be something they'll use in their daily lives, or something they'll use to help train clients.
What are the ultimate CrossFit Christmas stocking stuffers?
There are always a few CrossFit Christmas stocking stuffers the CrossFit fan in your life can't go without. A couple little clues would be a jumprope, hand grips, take, and chalk chalk chalk.